IVAN DIXON - PIONEER, ADVOCATE, LEADER, ROLE-MODEL, PRODUCER, DIRECTOR, ACTOR.
A CREDIT TO MANKIND. A LEADER IN EVOLUTION OF THE HUMAN RACE.
DUMMYTV. COM wants to make clear their feeling that MR. IVAN DIXON'S credits, while impressive, tell the least about his place in motion picture industry history. This iconic quiet giant's impact, accomplishments and hard work in the Director's Guild (and in "the business" across the board) to increase opportunities for women and other minorities came at a time and was done in a way that deserves special recognition. Mr. Dixon was a voice when there were not many. He was always insistent. Smart. Reasoned. Forward moving. Every human who values the idea of "inclusion"(creative, political "American"--and otherwise) owes a great debt to MR. IVAN DIXON. Along with MR. BILL COSBY, Mr. Dixon quietly carried the torch of progress when there was not a lot of fire.
Ivan Dixon was born in New York City on April 6, 1931. One of his first acting credits was on the television anthology series "The Dupont Show of the Month" in the 1960 production of "Arrowsmith." Mr. Dixon went on to act in the film version of the theatrical drama "A Raisin in the Sun" with Ruby Dee and Sidney Poitier in 1961. He also portrayed Jim in the 1959 film version of "Porgy and Bess." Other early film work includes: "Something of Value" (1957), "The Murder Men" (1961), and "The Battle at Bloody Beach" (1961).
The film for which DUMMYTV.COM proclaims Mr. Dixon to be the most significant Black American actor in a single role in film history is the acclaimed drama "Nothing But a Man" (1964). "Nothing But A Man" is a subtle, complicated character study in which Mr. Dixon plays Duff, a Southern railroad worker. It is a masterful portrayal of a fully realized black male character. He deserved an Academy Award for that performance if there was ever one given. See it.
Mr. Dixon acted with Sidney Poitier in the 1965 film "A Patch of Blue". Also in 1965, Mr. Dixon began "Hogan's Heroes". He left the series in 1970, one year before the show ended.
Other film roles include: "Suppose They Gave a War and Nobody Came?" (1970), "Clay Pigeon" (1971), and "Car Wash" (1976).
Other television acting credits include the 1987 mini-series "Amerika," the 1986 mystery film "Perry Mason: The Case of the Shooting Star," in which he played the judge, and the 1974 action drama "Fer-de-Lance" (aka "Death Dive").

Mr. Dixon began directing films in the early 1970s. In 1972 he directed the gang warfare movie "Trouble Man". In 1973 Mr. Dixon produced and directed the greatly under-appreciated "The Spook Who Sat by the Door". Among Mr. Dixon's many television credits are stints on "Love Is Not Enough" (1978), "Palmerstown, U.S.A." (1980), "Hawaiian Heat" (1984), and the Steven Spielberg developed boxing movie for television, "Percy & Thunder" (1993).
POSTS ON: THE FILM BUG'S - IVAN DIXON FORUM
by Marilyn Penner
I know that Mr. Dixon does not think much of "Hogan's Heroes", perferring his serious roles on the "Twilight Zone" and the works he's directed. It is as Sgt. Kinchloe that I first saw him, and it is Sgt. Kinchloe for whom I have the most respect; but Mr. Dixon is one of the most remarkable and underrated of dramatic actors. I don't know why his name is not mentioned in the same was as Sidney Poitier or Harry Belefonte or Bill Cosby. "Nothing but a Man" "A Patch of Blue" "Raisin in the Sun" Fine work. Sterling stuff. Mr. Dixon, as much as Mr. Poitier, put African-Americans up front and centre not only as serious actors and directors; but as a people worthy of respect.

by Kimberly
That is so true about Mr. Dixon. I really enjoyed his performance in "Nothing But A Man" with Abbey Lincoln. I wish he had been a bigger star. He certainly had the talent. I always thought he was a stand-up type of guy in his movies. "Nothing But A Man" is a must see movie!

A CREDIT TO MANKIND. A LEADER IN EVOLUTION OF THE HUMAN RACE.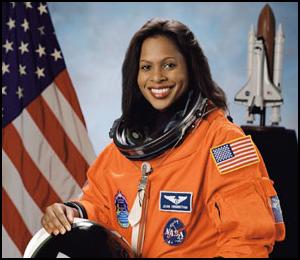 Joan E. Higginbotham
NASA Astronaut
PERSONAL DATA: Born in Chicago, Illinois. She enjoys body building (weightlifting), cycling, music, motivational speaking.
EDUCATION: Graduated from Whitney M. Young Magnet High School, Chicago, Illinois, in 1982; received a Bachelor of Science degree in Electrical Engineering from Southern Illinois University at Carbondale, in 1987, a Masters of Management from Florida Institute of Technology in 1992, and a Masters in Space Systems from Florida Institute of Technology in 1996.
ORGANIZATIONS: Delta Sigma Theta Sorority, Inc., The Gulf Coast Apollo Chapter of the Links, Inc.
AWARDS: NASA Exceptional Service Medal; Keys to the Cities of Cocoa and Rockledge, Florida; Group Achievement Award for STS-26 Return to Flight; Kennedy Space Center Public Affairs Certificate of Appreciation for Service; Commendation of Merit for Service to the Department of Defense (DOD) Missions; Presidential Sports Award in bicycling and weight training; Outstanding Woman of the Year Award; Outstanding Performance 1992, 1993, 1995; National Technical Association's 50 Distinguished Scientists and Engineers; Florida Institute of Technology's Distinguished Alumni for 1997; Southern Illinois University's Distinguished Alumni; Essence Magazine's Top 50 Women of 2004.
NASA EXPERIENCE: Joan Higginbotham began her career in 1987 at the Kennedy Space Center (KSC), Florida, as a Payload Electrical Engineer in the Electrical and Telecommunications Systems Division. Within six months she became the lead for the Orbiter Experiments (OEX) on OV-102, the Space Shuttle Columbia. She later worked on the Shuttle payload bay reconfiguration for all Shuttle missions and conducted electrical compatibility tests for all payloads flown aboard the Shuttle. She was also tasked by KSC management to undertake several special assignments where she served as the Executive Staff Assistant to the Director of Shuttle Operations and Management, led a team of engineers in performing critical analysis for the Space Shuttle flow in support of a simulation model tool, and worked on an interactive display detailing the Space Shuttle processing procedures at Spaceport USA (Kennedy Space Center's Visitors Center). Higginbotham then served as backup orbiter project engineer for OV-104, Space Shuttle Atlantis, where she participated in the integration of the orbiter docking station (ODS) into the space shuttle used during Shuttle/Mir docking missions. Two years later, she was promoted to lead orbiter project engineer for OV-102, Space Shuttle Columbia. In this position, she held the technical lead government engineering position in the firing room where she supported and managed the integration of vehicle testing and troubleshooting. She actively participated in 53 space shuttle launches during her 9-year tenure at Kennedy Space Center.
Selected as an astronaut candidate by NASA in April 1996, Joan Higginbotham reported to the Johnson Space Center in August 1996. Since that time, she had been assigned technical duties in the Payloads & Habitability Branch, the Shuttle Avionics & Integration Laboratory (SAIL), and the Kennedy Space Center (KSC) Operations (Ops) Support Branch, where she tested various modules of the International Space Station for operability, compatibility, and functionality prior to launch. She worked in the Astronaut Office CAPCOM (Capsule Communicator) Branch in the startup and support of numerous space station missions and space shuttle missions. She was also assigned to the Robotics Branch. Her last assignment was as the Lead for the International Space Station Systems Crew Interfaces Section. Joan is assigned to the crew of STS-116 where her primary task will be to operate the Space Station Remote Manipulator System (SSRMS).Click pic for Ms. Higginbotham's bio.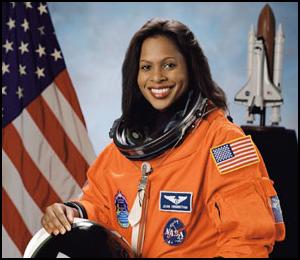 Congratulations on your successful mission, from DUMMYTV.COM!
DUMMYTV.COM is proud to acknowledge Ms. Joan E. Higginbotham as our first CREDIT TO MANKIND human to be featured in our SPOTLIGHT ON SPECIAL HUMANS. Simply--"thank you", Ms. Higginbotham, for your contribution to the evolution of human beings. Click picture for Ms. Higginbotham's bio.